Championship Pool Table Cloth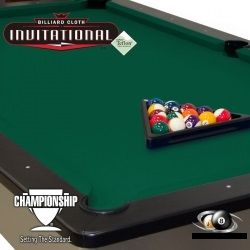 Championship Pool Table Cloth
Championship Invitational Pool Table Felt with Teflon is the same great fabric that is used on the original Invitational line but it is bathed in Dupont™ Teflon™ before weaving. This process creates the only true liquid resistant fabric. If you spill something on it the liquid will just bead up. Then you can clean it up and keep playing without every knowing there was a spill. It is a 20oz weight cloth which is unbacked and made of 75% Woolen and 25% Nylon blend.

24 colors available.
Available in 7', 8', & 9'
Complete with bed cloth & rail material pre cut.
Don't forget to order extra matching chalk.